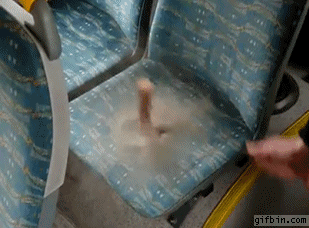 In honor of going a month without a single post, I suggest a dust mechanic that slowly makes abandoned buildings dusty as this train seat.
One of my very first software development jobs, a bunch of us worked in one relatively small room with no partitions or anything. The guy who sat in the desk in the middle of the room was pretty funny sometimes. Like, randomly just blurting out, "Hey guys, if I had my own office then I could sit here without any pants and no one would know."
Anyway, one day he was crawling out from under his desk after running some cables and smack the seat of his chair. Puffs of dust came out as will happen with almost any chair. He pointed and said, "Farts of Christmas past..."
I still chuckle about that sometimes.